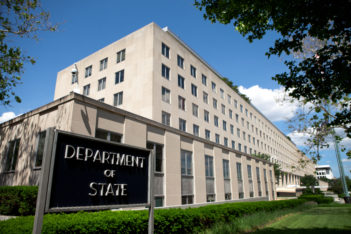 The US State Department has imposed a travel ban on Burma/Myanmar's most senior military commander, Commander-in-Chief Min Aung Hlaing, and three of his highest ranking officers – Deputy Commander-in-Chief Soe Win, Brigadier General Than Oo, and Brigadier General Aung Aung.  The travel ban also applies to their immediate family members.
At a press conference following the announcement, a State Department official said that the individuals had been sanctioned for their involvement in gross violations of human rights against the Rohingya people, including extrajudicial killings. The US designated two other generals, Lieutenant General Aung Kyaw Zaw and General Maung Maung Soe, in 2018.
At the press conference, the State Department official also confirmed that the State Department had chosen specifically to impose travel bans because it had the authority to do so unilaterally, whereas economic sanctions such as asset freezes require the involvement of the Treasury Department.
In its press release, the US State Department said that it remains "concerned that the Burmese government has taken no actions to hold accountable those responsible for human rights violations".