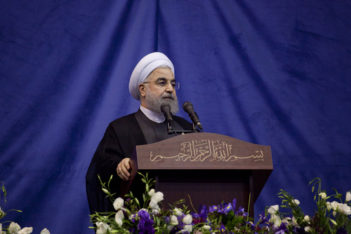 Iran's atomic energy agency (AEOI) has announced the following measures to reduce their commitments under the nuclear agreement (JCPOA):
The production of enriched uranium has been increased by four times, and as a result, Iran will exceed the 300kg uranium enrichment cap stipulated in the JCPOA by 27 June;
Heavy water production and supplies could exceed the 130-tonnes limit in 2 and a half months if Iran is not given access to a new market (there are currently US sanctions on the sale of heavy water); and
Iran may start the process of enriching uranium from 7 July to up to 5% to meet the needs of the Bushehr power plant and up to 20% (military-grade) for a research reactor. At present, Iran is limited to enriching uranium at 3.67%.
Iran says it has taken these steps under paragraphs 26 and 36 of the JCPOA, and that if it sees "concrete action" and "positive signs" by the EU of compliance with the JCPOA, Iran will go back to JCPOA compliance. AEOI Press Release (Persian), the English version, and statement from E3 ambassadors.