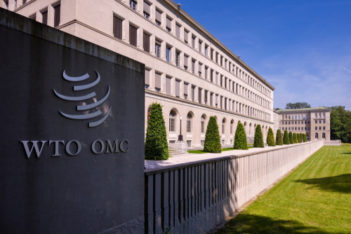 Ukraine challenged Russia's 2014 sanctions (which prohibited the transit of goods from Ukraine through Belarus to third countries, and via checkpoints in Russia) in the WTO on the grounds that they are inconsistent with Russia's obligations under the GATT.
The WTO panel has published a Panel Report, finding (inter alia) that, as Russia said, these measures were "necessary to protect its essential security interests due to the emergency in international relations". Summary of Findings.
The panel has not made a recommendation to the WTO Dispute Settlement Body (DSB) following its ruling because no violation of the GATT has been found. Ukraine can appeal the panel's ruling within 60 days of the report's publication; the Appellate Body may uphold, modify or reverse the original panel's legal findings and conclusions. Should the Appellate Body reverse the ruling and find Russia's measures to be inconsistent with the GATT, the DSB will adopt their report and make recommendations accordingly to the offending state (Russia). If Ukraine decides not to appeal, then the DSB will adopt the original panel report under Article 16(1) of the DSU.