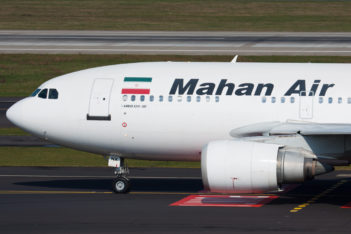 Last week (21 January), Germany announced that it had banned Iranian airline Mahan Air from operating passenger flights to and from its airports. This is not an EU-wide measure, and the airline is not presently subject to EU sanctions.
German Foreign Ministry spokesman Christofer Burger said that the ban was in Germany's "foreign and security policy interests" due to the airline allegedly being involved in acts of state terrorism, namely through the transportation of equipment, people and funds to Middle East conflict zones, including Syria.
US Secretary of State, Mike Pompeo, welcomed "Germany's decision to deny landing rights to Iran's Mahan Air", see announcement. A similar announcement was made by US National Security Advisor, John Bolton. In 2011, the US sanctioned Mahan Air for "supporting Iran's terrorism activities", and recently designated Thailand-based My Aviation Company Limited, Malaysia-based Mahan Air Travel, and Armenia-based Flight Travel LLC for "acting for or on behalf of Mahan Air" (serving as general sales agents to the airline).