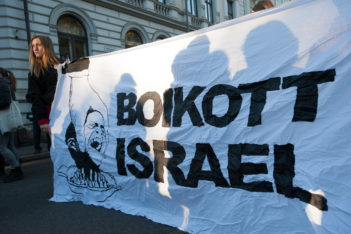 Israel has published a blacklist of 20 international organisations (primarily European and American) for supporting a boycott campaign against the country (for giving support to the Boycott, Divestment and Sanctions (BDS) movement). As a result of the blacklisting, members of the 20 groups will be denied entry visas and residency rights within the state of Israel from March 2018.
The European organisations blacklisted: France-Palestine Solidarity Association; BDS France; BDS Italy; the European Coordination of Committees and Associations for Palestine; Friends of Al-Aqsa; Ireland Palestine Solidarity Campaign; the Palestine Committee of Norway; Palestine Solidarity Association of Sweden; Palestine Solidarity Campaign; War on Want; and BDS Kampagne.
The American organisations blacklisted: American Friends Service Committee; American Muslims for Palestine; Code Pink; Jewish Voice for Peace; National Students for Justice in Palestine; and US Campaign for Palestinian Rights.
Other groups blacklisted: BDS Chile; BDS South Africa; and BDS National Committee.