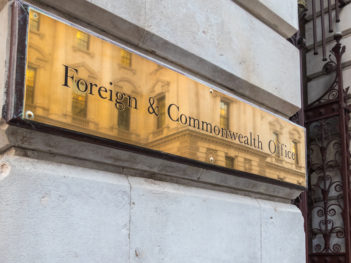 We previously reported that the House of Lords Committee on the Constitution had published its Report on the UK Sanctions and Anti-Money Laundering Bill, raising a number of constitutional concerns. The Foreign and Commonwealth Office has now published a letter responding to those recommendations. Main points:
In relation to the appropriateness of Ministers having such broad delegated powers, the Government has said it "sought to balance the twin demands of ensuring parliamentary scrutiny and ensuring rapid international responses", and that it believes "the package of checks and balances in the Bill… will provide sufficient safeguards".
In respect of the recommendation that the Bill should state expressly that designation decisions are subject to proportionality, the Government confirms that proportionality applies but that it does "not consider it necessary to include the proportionality requirement on the face of the Bill".
The Report was concerned that the power to designate by description, as opposed to by name, does not comply with legal certainty. The letter states that the Government will "always seek to designate by name wherever possible", but "in exceptional cases, may have a clear idea of the category of persons [it would] wish to designated but may not be able to identify all of the individuals by name. Designating by description would then offer a way to prevent a well-defined category of people from using their funds and assets to support activities targeted by sanctions".
As to the appropriateness of the power to sanction people "connected with" a country, the Government considers this to be necessary in order to implement / impose sectoral sanctions.
In relation to the power to create criminal offences by regulation, the Government says "these types of offences already exist" and that the power is "supported by precedent".
The Government rejects the recommendation that the current safeguards for persons subject to a UN listing should be maintained in the Bill, with a right of appeal to the court.
As to the Bill's three-year review period for sanctions designations, the Government states that the matter "should be considered as part of a system of safeguards… [which it believes] will provide the right level of protected to designated persons".
On 15 January 2018, the Bill will commence the Report stage in the House of Lords. The amendments listed for consideration are as follows: (a), (b), (c), (d) and (e). Running list of the amendments here.