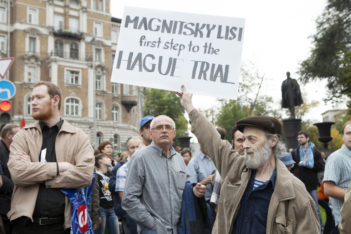 The US has added 5 Russians under the US Magnitsky Act, which targets people involved in the death of Russian lawyer Sergei Magnitsky or related human rights abuses. The now 39 people designated under the act are ineligible for visas and admission to the US, and are listed as Specially Designated Nationals, with the effect that their assets are frozen and US persons are prohibited from doing business with them.
4 are said to have been involved in Magnitsky's death. They are former head of the Russian Interior Ministry's investigative department Aleksey Anichin, who authorised the criminal case under which Magnitsky was arrested, former head of its investigative department of organised criminal activity Pavel Lapshov, and Boris Kibis and Oleg Urzhumtsev who were involved in Magnitsky's posthumous prosecution. The 5th is Yevgeni Antonov, who according to the US State Department ran a prison in Chechnya notorious for human rights abuses.
Asked about the possibility of including people on the Magnitsky list in connection with the killing of British citizen Alexander Litvinenko (see previous blog), a senior State Department official said following these latest designations that "… we will – our process… is an open one. Without discussing the specifics, we are continuing our work".