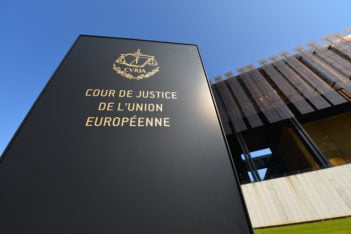 The European Court of Justice has handed down its judgment in the appeal brought by Europäisch-Iranische Handelsbank AG (EIH) against the General Court's judgment declining to annul its Iranian sanctions listings (see previous blog here). The ECJ has rejected its appeal, in Case C-585/13 P EIH v Council, following Advocate General Mengozzi's opinion (see blog here). This is an important judgment on the dangers of relying on general licences from national authorities.
EIH was listed in the EU's sanctions against Iranian nuclear proliferation on the grounds that it had assisted designated entities (Iranian banks) in evading sanctions. The ECJ held that the General Court was right to have considered that EIH had accepted that it had carried out transactions with listed entities. The Court also rejected EIH's argument that the General Court was wrong to have held that the 3 categories of transaction which EIH had carried out in respect of listed entities were not lawful. EIH argued that all of its transactions were either excluded from the scope of the sanctions legislation, authorised separately, or approved by Germany's Bundesbank. The ECJ held that even if the Bundesbank had given EIH a general licence to carry out transactions involving listed entities under the "Third Way" procedure by which the entities may discharge debts predating their designation, the Council Regulations require individual authorisation on a case-by-case basis, which EIH did not have. EIH said its legitimate expectations and the principle of legal certainty had been violated by the General Court's failure to take account of the Bundesbank's approval of the transactions. The ECJ said no; given EIH's expertise it must have known that the transactions concerned designated entities and were therefore "particularly suspect", and that the principle of legitimate expectations cannot make lawful transactions that were expressly prohibited by legislation. It upheld the General Court's assessment that the regulations concerned were clear, precise, and detailed.
EIH also disputed that the sanctions imposed on it were necessary to pursue the legitimate objective of the EU regulations, namely combating nuclear proliferation and its financing. The ECJ rejected this, and upheld the General Court's view that the alternatives to the restrictive measures suggested by EIH, including case-by-case authorisation, would not ensure a sufficiently "preventative" effect.