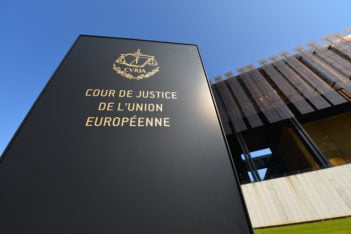 We reported in January and February 2013 on the judgments of the EU General Court in Case T-496/10 Bank Mellat v Council and Case T-494/10 Bank Saderat Iran v Council (see previous blogs here and here), annulling the listings of both banks on the EU's sanctions against Iranian nuclear proliferation. The Council appealed both judgments to the Court of Justice and Advocate General Sharpston has now delivered her (non-binding) Opinion (Cases C-176/13 P and Case C-200/13 P) that the ECJ should uphold the General Court's judgments. The next step will be a judgment from the Court of Justice.
The Advocate General's Opinion makes a number of interesting points about sanctions cases, including the following:
Procedure: The extension of EU court time limits in Article 51 of the Rules of Procedure by 10 days "on account of distance" are "a vestige of a bygone epoch" and have "no function in the modern Rules of Procedure".
Fundamental Rights: The General Court is right that ECHR and EU fundamental rights apply to "everyone", including the emanations of non-member states (and in any event the General Court annulled the listings not on fundamental rights grounds but failure of procedural requirements).
Reasons: Although it should not result in the judgments being overturned, the General Court should have assessed the reasons for listings together rather than individually.
Rights of Defence: A listed entity must be given access to all the non-confidential the material against it on the Council's file and given the opportunity to make its views known on it, including listing proposals by Member States. The principle of "originator's consent" cannot confer confidentiality on a document the sole content of which concerns the conduct or alleged conduct of the entity in question. Failure to assess all the evidence before an initial listing, though desirable, does not infringe rights of defence, but a re-listing is different (because there's no need for a surprise effect).
Error of Assessment: All of the listing criteria in the Iran sanctions relate to "actual, ascertainable conduct" to be proved by "factual evidence", rather than "the abstract possibility of particular types of future conduct". The Council must itself assess all the evidence when it is deciding whether to re-list, and must not just rubber stamp the assessment of one Member State – "the institution itself is a separate body and must discharge its own responsibilities". The Council cannot simply assert confidentiality as a way of refusing to disclose evidence, it must explain why it is impossible to disclose particular evidence. This point may also be relevant to proposed changes to EU court rules on confidentiality – see previous blogs here and here.
Council Regulations at issue are true regulations, as opposed to decisions, and therefore the General Court was right that annulments of regulations only take effect after the appeal period has expired.