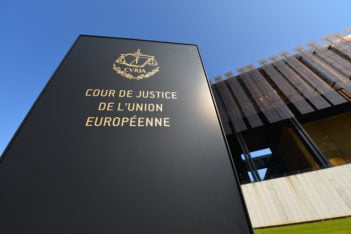 The General Court of the European Union in Luxembourg (8th Chamber) has rejected a claim for damages brought by the former Deputy Minister for Economic Planning and Development, Aguy Georgias, and by his companies Trinity Engineering and Georgiadis Trucking. Case T-168/12 Georgias & Ors v Council (18 September 2014).
Mr Georgias' claim was for damages he and his companies suffered as a result of being listed on the European Union's restrictive measures (sanctions) relating to Zimbabwe from 2007 to 2011 (when he was de-listed). He claimed damages he said resulted from being refused leave to enter the United Kingdom en route for New York, and other items such as legal fees, business losses, and medical expenses.
The European court found that his claim for damages was admissible even though he had not brought an application to annul his listing on the EU sanctions measures. However, the Court rejected his claim for damages because:
The refusal of his entry to the UK was not a decision of the EU but of the UK authorities, and was not caused by the EU asset freeze.  (Mr Georgias could not challenge the travel ban because at that point it was contained in a Common Position which the European Court did not have jurisdiction to consider).
The reason given for his listing, simply his status as a Deputy Minister, was sufficient, because these EU measures were targeted at members of the government of Zimbabwe generally on the basis that the government itself was engaging in serious violations of human rights, which did not mean that the Council was accusing each member of the government individually of responsibility for specific violations.
The Council had not committed a manifest error of assessment in including Mr Georgias because he was a member of the government, and the Council was entitled to consider that someone should not have become a minister until the government had rejected the policies that led to the suppression of human rights and freedom of expression and prevented good governance; this was collective responsibility regardless of personal involvement, and the fact that Mr Georgias had assisted white farmers threatened with eviction did not show he was not following government policy or was seeking to end violations.  The Council was also entitled, following the Global Political Agreement in February 2009, to maintain Ministers on the list for a period of time while not adding new members of the government.
Interestingly, in rejecting also his rights of defence argument, the Court said (for the first time in a sanctions case?) that Mr Georgias had not shown how permitting him to submit observations or otherwise complying with his rights of defence would have made a difference to the result of his listing.