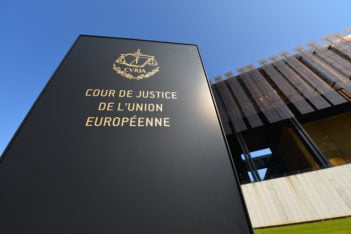 The European Court of Justice has answered a question asked by the Lithuanian administrative court, concerning the unfreezing of funds to pay for legal expenses for people and companies wishing to apply to annul their designations on EU targeted sanctions measures. The judgment (handed down on Thursday) is in Case C-314/13 Uzsieno reikalu ministerija & Ors v Vladimir Peftiev & Ors.
Mr Peftiev, whose assets are frozen in the European Union by virtue of being listed on the EU sanctions relating to Belarus, asked a Lithuanian law firm to represent him in an application for annulment to challenge his listing in the General Court of the EU. The Lithuanian law firm applied to the Lithuanian national authority for an exception to the asset freeze (a licence) so that he could pay legal fees from funds that would otherwise be frozen, and the authority refused, "having regard to all legal and political circumstances". The Lithuanian court referred a question to the ECJ, pursuant to the ECJ's preliminary reference procedure by which national courts may ask the ECJ to answer questions concerning the interpretation of European law.
The ECJ's judgment holds that national authorities do not have unlimited discretion when they are deciding whether to release frozen funds for legal expenses. They must exercise their powers compatibly with the EU Charter of Fundamental Rights, bearing in mind that applicants to the General Court are required to act through lawyers (and not in person). Authorities may set appropriate conditions (e.g. giving preference to bank transfers over cash payments, verifying that the funds in question are intended exclusively to pay reasonable legal fees, and so on). The ECJ also said that the national authority could not take into account the availability of legal aid in the European court or the possible origin of the funds when considering whether to grant a licence.