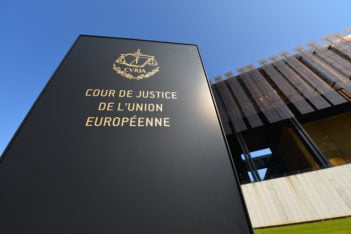 We previously reported that the European Court of Justice has been considering a proposal from the General Court (the first instance European court in Luxembourg) to enable the EU institutions to rely on undisclosed evidence in actions for annulment, in particular in sanctions cases. The new draft of the General Court have now been sent to the Council of the European Union for approval, and have been published here.
The European Court has so far held that rights of defence and effective judicial review do not permit the Council of the EU to rely on reasons for including an individual on EU restrictive measures unless the Council discloses the reasons and evidence to the designated person / company (see e.g. Kadi 2). Chapter 7 of the new draft rules proposes to change this position, by means of an exception to the "adversarial principle…under which all information and material must be fully communicated between the parties". Then new procedure would permit a party (such as the Council) to submit that the communication of certain evidence would "harm the security of the European Union or its Member States or the conduct of their international relations", and for the Court to take the material into account (having "weighed up" a number of factors) without it being disclosed to the other party. In assessing that material, the Court will "take account of the fact that a main party has not been able to make his views on it known" and "has not been fully able to exercise his rights of defence".
These new proposals may diverge from Article 6 of the European Convention on Human Rights (the right to a fair hearing) as interpreted by the European Court of Human Rights and House of Lords, which requires an "irreducible minimum" level of disclosure; individuals must be given sufficient information to enable them to give effective instructions in order to refute allegations against them (even if the supporting evidence can not be disclosed), even where it would be damaging to national security to disclose that "irreducible minimum". Although the comments on the draft rules say that they are "to a large extent based on" the ECJ's Kadi and ZZ judgments, both of those judgments required disclosure of the "essence of the grounds" (i.e. an irreducible minimum) which the new draft rules do not require.
We also reported that a number of prominent organisations in the UK had written to the President of the Court of Justice suggesting that the Court should consult on this proposed rule change given the potential impact on "the rule of law, natural justice and rights of defence". The President of the ECJ replied saying that the procedure for amending the Court's rules did not provide for a public consultation. In answer to a parliamentary question from Lord Pannick QC in the UK, the senior Minister for Foreign and Commonwealth Affairs said that when published, the Government "will scrutinise the proposals in detail".