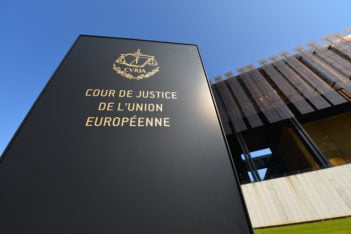 We previously reported on this blog that the European Court of Justice is currently considering a proposal from the General Court (the first instance European court) to permit the use of classified evidence in actions for annulment. And that Lord Pannick QC asked the British Government a question in Parliament about its position and whether it would ensure public consultation on this issue.
A number of prominent organisations in the UK have now written to the President of the European Court of Justice suggesting that the Court should consult on this proposed rule change. The letter was signed by the Bar Councils of England and Wales, the General Council of the Bar of Ireland and Northern Ireland, the Scottish Faculty of Advocates, the Law Societies of England, Wales, Scotland and Northern Ireland, Justice, Liberty, the Bingham Centre for the Rule of Law, and a number of Specialist Bar Associations.
The letter suggests that an amendment to the Court's rules to permit exceptions to the principle that a person should know the case against him or her "may have a serious impact on the rule of law, natural justice and rights of defence, and may raise serious issues of constitutional and public importance for fundamental rights in the European Union, upon which our organisations (and others) may wish to comment".
The President of the ECJ has replied saying that the Court has not reached any conclusion about "new provisions allowing the General Court, under certain conditions, to order that it receives and takes into account certain confidential information to which some parties to the proceedings will not have access", that "if and when it does so, the Court will do so in accordance with the primary law provisions on the protection of Fundamental Rights in the European Union", and that the procedure for amending the Court's rules do not provide for a public consultation. In a second letter, the same organisations have explained further why consultation is appropriate in these particular circumstances and have asked the Court to reconsider.