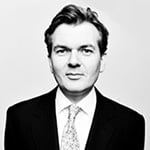 Michael was called to the Bar in 1992 and prior to joining Peters & Peters was a senior specialist prosecutor at the Crown Prosecution Service Headquarters (CPS). He was a key member of a small specialist unit responsible for the prosecution of serious and high-profile fraud, terrorist, espionage and special interest criminal matters, including the Stansted Airport Afghan hijacking and the prosecution of Paul Burrell (Princess Diana's butler). He is listed as one of only 10 of the world's best investigative lawyers.
Since joining Peters & Peters Michael has dealt with a wide range of business crime matters. He has particular expertise in criminal cartels, economic sanctions, extradition, corruption, mutual legal assistance, private prosecutions and FCA investigations.
His practice and ability was recognised in The Lawyer's Hot 100 (2009) which described him as 'an influential practitioner in fraud and regulatory work, so much so that he is top of the referral lists of many City firms for independent advice for directors'.
Michael regularly appears in the media to discuss his specialist areas and he is the author of the leading textbook on the UK Criminal Cartel Offence: The Law of Criminal Cartels – Practice and Procedure (Oxford University Press).
He was recognised as one of the UK's most innovative lawyers in the 2011 FT Innovative Lawyer Awards and included in the list of the UK's leading lawyers in Who's Who Legal. He is ranked annually as a leading lawyer in the leading directories Chambers and Partners and Legal 500. More recently, Michael was recognised in the 2017 The Lawyer 'Hot 100 ' list, for his high profile representations and his key strategic role as new Senior Partner of Peters & Peters.
Recent/Current Sanctions Work:
Representing 109 individuals and 12 companies subject to designation by the European Council under targeted measures imposed against Zimbabwe. This is the largest and most complex collective challenge to a sanctions listing ever brought before the European Court.
Acting for a former Egyptian Minister and his UK resident wife, challenging their designation by the European Council of Ministers under targeted measures brought against former members of the Egyptian Government.
Advising a company accused in a UN investigation report to have breached UN sanctions imposed in relation to Somalia.
Advising a UK company in relation to ongoing commercial relationships with an Iranian company listed under both EU and UN sanctions.
Advising an individual in relation to a UK investigation for alleging breaching nuclear export controls.
Peters & Peters
15 Fetter Lane
London
EC4A 1BW
DX: 407 London Chancery Lane
Tel: +44 (0) 20 7822 7777
Fax: +44 (0) 20 7822 7788
Email: mokane@petersandpeters.com
Website: www.petersandpeters.com